"Revealed: How To Get Rid Of Ladybugs (a.k.a. Multi-Colored Asian Lady Beetles) Within Hours Using Safe & Natural Methods Discovered By A Former Ladybug Victim In Minnesota!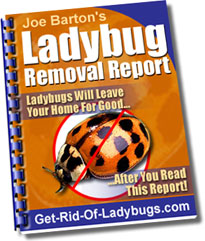 Are Ladybugs Driving You Crazy?
If so, the Ladybug Removal Report is exactly what you need!
| | | |
| --- | --- | --- |
| | | Imagine your Ladybugs GONE ... just a few short hours from right now... |
| | | Imagine yourself enjoying your home again, free from Ladybugs... |
| | | Imagine no more Ladybugs falling off your ceiling into your dinner... |
| | | Imagine the peace of mind you'd have knowing you could prevent Ladybugs from ever coming back again -- after you use one of the secrets revealed in the Ladybug Removal Report |
| | | Now you too can join the thousands of other Ladybug Victims who put my secret home remedy to the test, and got rid of their Ladybugs for good... |
From: Joe Barton
GetRidOfLadybugs.Com
"The Ladybug Removal Expert"


(listen to a short audio message from Joe)

Dear friend,

If you would like to get rid of ladybugs for good, this will be the most exciting message you have ever read.

Here is why.

Ladybugs have quickly become the Nuisance Pest of the Year, as thousands of Americans and Canadians are being bombarded by and infested with ladybugs, also called "Multi-Colored Asian Lady Beetles".

The problem is, nobody really knows how to get rid of these nuisances. A search on Google will reveal many links that acknowledge the problem, but nobody has any solutions, except telling you to make sure your house is sealed, so they can't get in.

Well Duh! Anybody with half a brain
could have figured that out!

Not to worry... I have an easy, safe, natural, and low-cost solution for you.

My story
I live on a small acreage in southwest Minnesota. In early October 2003, my brand new house got bombarded by GAZILLIONS of these little bugs. It seemed as if the "Ladybug Herald" put out an advertisement saying "Free Room & Board at Joe's House!" the day before...

They were EVERYWHERE! On my house, on my doors, in my door cracks, in my windows, on the ceiling, on the floor, on the walls... EVERYWHERE, inside and out!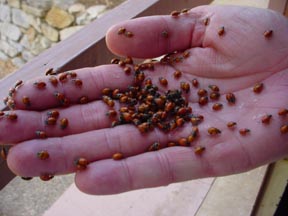 When I walked outside, they bombarded me and landed on me! Later on I'd find them still in my clothes! Some even bit me (or so I thought... they actually pinch, but they don't bite... but it still hurts!). They were attacking my family, and they were very annoying... so
I Became Determined to Get Rid of Them for Good... AND I DID!!!
Testimonial:
"Hey Joe,

Just wanted to let you know that I'm a satisfied customer.
At first I thought the cost was a little steep for a PDF, but that hesitation vanished when you sent me this follow-up email.
It's nice to know that you care about the problem and you care that we're up to date on what's worked for others.
(Note from Joe: I emailed all of my customers with a new ladybug removal technique that was working even better than my other secrets in the report - you'll get this new secret when you buy, too).
I'm also very glad that you're advocating more natural and effective remedies. While pyrethoids are natural in their origins, that does not mean that they are not harmful. While the chemicals are relatively benign to us, they can decimate aquaculture and fish in general. Our house is a little log cabin very close to a pond, and I'm an avid fisherman and i would hate to see all my stocking work go to waste (which could happen if the pyrethoids, particularly synthetic ones, got into the groundwater).
So again, I really like that you're advocating less destructive yet equally effective methods. And I think you should at least point this out briefly in future reports."
- Teddy Boisfeuillet Jones
Washington, D.C.
Testimonial:
"Hello, Joseph. You educated me very well concerning ladybug infestation. I was able to purchase <<EDITED>> locally, and alas! One burn and the bugs are gone.
Many thanks for your help."
- Randall M. Miller
Mechanicsburg, PA
Testimonial:
"Since getting the report and implementing your methods at my house, I have been LADYBUG FREE!
I told my aunt and her husband about it. They have tried some of your methods as well and it works for them too! Thanks again for your help and information!
Also, I received your report instantly - thank you!!!
- Larry Belton
Mocksville, NC
So how did I get rid of the buggers?
I started doing a lot of intense research and hands-on experimentation. Before that, the only solution I knew of was to suck up these low-grade insects with our vacuum cleaner as fast as I could.
Unfortunately, your vacuum won't keep ladybugs from coming back… And they will come back… as I'm sure you already know! Using your vacuum will help temporarily subside the attack of the ladybugs. However, I strongly suggest you read the Ladybug Removal Report before you even think about using your vacuum again - you could be damaging your vacuum beyond repair, and you could be attracting more ladybugs to your home by using your vacuum!
When you finish reading the Ladybug Removal Report, you will be able to keep them from coming back for good! You will be a ladybug removal expert, just like me!
If you'd like to know the top-secret methods I used to get rid of them (using secret household products you probably already have in your home...), the Ladybug Removal Report will give you all the information you need to wreak havoc on the Asian Lady Beetle community. You will learn all the secrets on how to get rid of your Ladybug infestation, with step by step instructions and expert advice.
My Secrets Have Helped Thousands of
People Get Rid Of Their Ladybug Problems, and I'm Sure You'll Be Next!
You'll not only keep the little crunchy-crawlers away from your home - you'll make them wish they never read that advertisement in the "Ladybug Herald"... you know, the advertisement saying "FREE ROOM & BOARD AT YOUR HOUSE"!
Testimonial:
Joe - After reading your Ladybug Removal Report at 1 a.m. this morning, my wife and I are already gaining ground on getting rid of the Ladybugs!
We had an infestation in our basement of our 102 year old house. I really wish I had your info before earlier, because there was a patch about two feet wide by two feet top to bottom that was just packed tightly with what I would estimate as about 10,000 ladybugs!!!
What really got me mad was when I had my hundred watt reading lamp on next to my recliner chair for reading and TV watching at night, if the light was on, they gathered by the flock all over the shade inside and outside and the books and magazines etc. and got in my hair, which REALLY made me MAD!!

Thank you for your report, and for delivering as promised!!!
- Jim Coombes, Hillsdale County, Jonesville, MI
By the way... these "ladybugs" are actually not the red and black ladybugs that we are used to. They are more orangish-black, like this picture: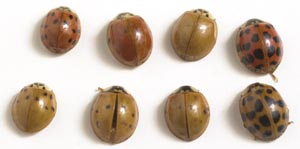 By the way... Ladybugs do NOT taste good in your CEREAL!
These ladybugs are called Multi-colored Asian Lady Beetles (MALB's), and they were imported to our country to help control the aphid population. Aphids were destroying farmer's crops across the country, so some "experts" thought it would be a good idea to bring in these MALB's in to get rid of the aphids. Too bad they didn't foresee what a problem that would cause to American homeowners!
OK, here's the good news . I've compiled a 12-page report that will give you the all the information you need to solve your ladybug infestation problem! Along with the Ladybug Removal Report, you will receive email updates and tips that will give you all the insider secrets to being Ladybug Free!
Testimonial:
"Your report was packed with helpful information that I look forward to putting into effect in the near future.

Sincerely,

George Todd"

Testimonial:
"Mr. Barton,
I had to write and give you an update on our battle with the Ladybugs.
First, let me say....Thank you...Thank you !!
We had Thanksgiving Dinner today at my Mom's house and guess what? For the first time in 4 years, we did not have a single ladybug crawling or flying anywhere. It was wonderful to be able to sit down to eat and not have to swat Ladybugs from our food and drink.
We burned (edited) one time for a few hours paying attention to allowing the smoke to penetrate around the windows and doors and in the house interior... We began our smoking about 2 PM in the afternoon and by early evening, we could tell there were a significantly less amount of Ladybugs in the house. We even found lots of dead ones and sucked them up with the vacumn. The next day and for about two days thereafter we noticed less and less ladybugs. And,... then they were just gone or lying dead.
Mom's ladybug infestation was massive and praise God and you...we are ladybug free.
Your remedy works like magic. We are anxious to see if the Ladybugs try to come back next year. We will be ready for them if they do.
Your report was a Godsend and this family thanks you so very much for the time and dedication that you put into it and for making it available to the public at such a reasonable cost."
Donnie Jones
Kentucky
Testimonial:
I appreciate the lightning speed at which I received the "Ladybug Report". I received the report almost immediately after requesting it! I have never received anything via the internet as fast as I did your report. I thought I knew everything there was to know about ladybugs, but your report showed that I had a lot to learn. Your report has been extremely valuable and helpful.
Thanks for everything!!!!!
- Brian Robison, Hermitage, PA
After reading the Ladybug Removal Report, you will learn:
Numerous proven and tested methods to REPEL Ladybugs so they will LEAVE and NEVER return - you will only find this info in my Ladybug Removal Report


Sure-fire ways to prevent future infestations


Two secret non-toxic household supplies you can use to combat ladybugs (and where to buy some if you don't already have some)


Free methods and low-cost methods to get Ladybugs out of your home fast


How to build your own ladybug trap using materials you have laying around the house. You can then resell these ladybugs that you've trapped to gardeners who will pay you hand-over-fist for your ladybugs (they help get rid of aphids)!


Common myths and misconceptions of Ladybugs


Why ladybugs emit a foul-smelling fluid, and how to prevent stains in your home and on your clothing


What kind of damage ladybugs do to houses and other structures, and how to prevent it


What kind of dangerous diseases ladybugs carry, and how poisonous they are


The truth about ladybug bites, allergies, and other medical concerns


How long ladybugs will stay & how many years they'll return if you do nothing about it


Most effective and efficient methods to use the two secret household chemicals I reveal in my report


When (and when not) to use your vacuum cleaner, and other vacuuming tips


Plus, loads of other helpful facts, tricks and tips to help you live in comfort once again!
All of this information was gathered from intense research, experimentation and personal experience. You will learn all the details when you read the Ladybug Removal Report!
You will receive the report instantly after you pay with your credit card. Otherwise, if you mail a check, I will send you the report the same day I receive it in the mail! Instant delivery - it doesn't get any faster than that!
GUARANTEE
I firmly stand behind the contents of my report, and I continue to offer a 100% satisfaction money-back no-questions-asked guarantee on this report. If you're not happy, I'm not happy. And I definitely want you to be happy - since, if you're reading this... you can't be entirely happy with Asian Lady Beetles crawling around inside your home! If you are not satisfied with the report for any reason, I will give you a prompt refund! (Less than .03% of my customers have ever requested a refund - they were more than satisfied!)
If you don't order my Ladybug Removal Report today, how will you get rid of the ladybugs from your home?
Sincerely,
Joe Barton
"The Ladybug Removal Expert"
P.S. Advertising costs on the internet are going up, so, to cover costs, I may have to raise the price of my report soon. Order today to take advantage of the low price, before the price goes up!
P.S.S. Don't bother calling your exterminator. Not only will they charge you hundreds of dollars to give you a temporary fix, most exterminators are not allowed by law to kill ladybugs! You need my report! Click here to order.
P.S.S.S. You really have nothing to lose... except for your ladybug infestation! I offer a 100% money-back guarantee - if you buy my report, try it, and for some reason it doesn't work... just send me an email ([email protected]) and I'll promptly refund your money! That's only fair - I would never expect anyone to pay for something that doesn't work! (Thankfully, my report DOES work for most people!)
FAQ's
What format is your report in? This report is in PDF format, readable by the *free* Adobe Acrobat Reader, which your computer should already have installed on it. (If you need a copy, go to www.adobe.com). All you need to do is click on the link in my email, and your ebook will appear on your computer screen. You can even print it out (and roll it up to swat at some Ladybugs!). If you cannot get the PDF file to work, I will email you the Word document!
Are your removal methods easy to implement? Absolutely! Plus, not only will you receive the latest version of the Ladybug Removal Report, you will also receive my personal email address so you can ask any questions you may have as you put my secret methods into action! But I doubt you'll have any questions... the report is very detailed and easy to follow.
Can I order using a credit card or online check withdrawal? Yes! Click on the order button below to find out all the details.
Will I be able to find your "secret removal methods" anywhere else? No! The Ladybug Removal Report contains actual research and experiment findings that are proprietary to Get-Rid-Of-Ladybugs.Com. I have perfected the process of ladybug removal, and I pass these secrets on to you through my report.
If you have any questions that have not been answered, please email me: [email protected]
Testimonial:
"I received my Ladybug Removal Report as quickly as promised. The whole ordering process was extremely easy. I have found the report itself very informative. It is a blessing that Joe Barton has made this information he has aquired from his experiences with Ladybugs available to the public. I highly recommend anyone who has a Ladybug infestation in their home to read his report!"
- Jenny Waldeck, Arrington, VA
Testimonial:
"I just downloaded the file and I just wanna say thanks. I went out and bought one of those XXXXXXXXX and they are all staying outside!
It was all money well spent just to get rid of those pests!"
Justin Beck
IMAGINE WHAT IT WILL BE LIKE TO HAVE NO LADYBUGS IN YOUR HOME!

ORDERING INFORMATION:
Click Here To Instantly Download Your Own Copy of the Ladybug Removal Report For Only $19.97 - satisfaction guaranteed... or you don't pay one red cent!
I DON'T WANT ANYONE TO HAVE ANY LADYBUGS
IN THERE HOUSE ANYMORE!!!